Are you up to date on what Alliance Transport Technologies can provide you?
Your business is important to us and making sure you have the right parts first time every time is essential. All parts from Alliance Transport Technologies are genuine OEM specification, and are of the highest standards in testing to achieve the very best quality.
We thought it was about time that we sat down and made sure you are aware of what Alliance Transport Technologies can offer you. 
In this new 2 part series, we will focus on and highlight all of the key services that we offer here, and how we can help you.
The first part of this new series will be focusing on two of our main service offerings, our Battery Refresh and Remanufactured Products.
1.) Battery Refresh / Harvesting
Over the years, we have been given a real insight into one of the many challenges that sectors face alongside their vehicles and their Energy Storage Systems, or also known as Electric Battery Refresh and Hybrid Battery Refresh (repair).
Having to buy a new Electric Vehicle Battery (EV) or Hybrid Battery pack when the old one fails represents waste for the vehicle operator, the planet and everybody that lives on it.
However, up until recently, the only option that the operators of these vehicles have had is to replace the unit.
As a company, we want to ensure that we are doing everything we can to reduce the environmental impact, while ensuring a more reasonable cost compared to purchasing a New Battery.
Working alongside many operators, we have taken several of the common hybrid ESS battery packs and developed procedures to test them at a component level – including the individual module level.
This has allowed us to identify the individual component that has failed, and using this approach, we are able to harvest good packs from failed units. The dramatic savings in carbon, reduction of e-waste not to mention cost are very significant.
https://alliancett.co.uk/battery-refresh/
2.) Remanufactured Products 
Many people may think remanufacturing is just recycling or reusing an existing product. However, it refers to the process which is included in the methods of manufacturing a product. There is a lot of intricate detail which goes into remanufacturing a product, ensuring that all the REMAN parts are suitable to use.
Our REMAN products use less to no raw materials, as we are reusing existing products. This then means that we are preventing unnecessary manufacturing and reducing higher carbon emissions. Which then contributes to an overall improvement on your Carbon Footprint and helps with decarbonisation. 
Here at Alliance, we offer a range of Remanufactured Products which include the following: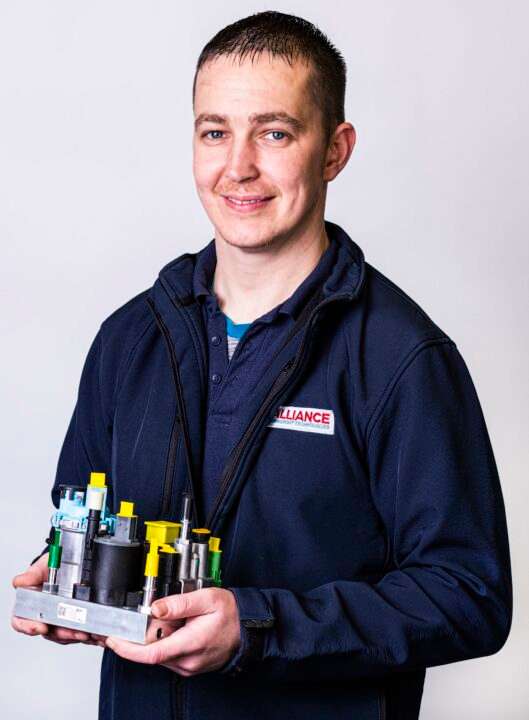 Let us take a closer look at two of our larger ranges:
AdBlue Pumps: 
Our AdBlue Team Leader, Mike Higgins is dedicated to helping Alliance Transport Technologies remanufacture AdBlue products while ensuring running costs are kept to a minimum. 
Specific built testing and repair station covering all aspects of the range to allow the team to carry out a full investigation into potential failures. 
We have a range of AdBlue Pumps that fit buses, coaches and trucks depending on the manufacturer of the vehicle. We offer: 
DAF | Iveco | MAN | Mercedes | Scania | Volvo
In particular we would like to highlight to you the following 3 products:
The Volvo AdBlue Pump
The Volvo AdBlue Pump is a Gold Test-Level product and is the latest version within the Volvo range. This product can be offered for repair, service exchange or new.
The Iveco AdBlue Pump
The Iveco AdBlue Pump is our premium products and our internal testing procedures mirror that. We have full in-house testing capability on this product, this unit will undergo our gold standard process which sees us able to test every aspect of the unit's functionality pre and post repair.
Cummins AdBlue Pump – Dosing Unit
The Cummins AdBlue pump / dosing unit is a Gold Test-Level product and is a premium product within the range. One of the top selling product lines, offering repair, service exchange & new.
Electronic Control Units (ECU)
Alliance has made several investments to the ECU range. This includes R&D and new equipment to allow for increased capabilities in both the testing and repair capabilities. 
We specialise in the repair and fault diagnosis of leading manufacturer systems such as:
Continental | Actia | Wabco | Knorr Bremse 
Our purpose built ATT Systems Analyser allows us to provide a full test and report on the majority of the products on the market.
We have taken the time to  work alongside our customers to identify the common faults on these units and how we can fix them.
Let's take a closer look at one of our ECU products: 
Mercedes CPC 3 failure is a common issue across the Mercedes MP4 Actros, Arox, Antos, EvoBus, Citaro, Setra, and Tourismo.
In summary, we have worked with a wide range of customers to identify the common faults on these units and how we can fix them.  
Often, the most common faults that we see relate to communication issues and accelerator faults.
Recently, Alliance Transport Technologies have produced a new remanufacturing offer which includes a full test and repair of the Mercedes CPC 3 for £1,100.00.
To explore our offer today, click here
If you would like to find out more about our service offerings and how we can help, visit our Battery Refresh and Remanufacturing Products Page.
Likewise, do get in touch with us to talk in more detail, or give us a call on 0114 2477041